BMclinical
40 hours
Lelystad (Netherlands)
Would you like to work in a dynamic and entrepreneurial organisation where you are responsible for international accounts? Then this vacancy as Project Manager at BMclinical might be for you. As Project Manager, you are responsible for a portfolio of global accounts and the main point of contact for your clients. The role as Project Manager is to plan, execute and complete projects according to strict deadlines and within budget. The focus of the role is on the timely delivery of clinical trial comparator supplies to the customer with all necessary and relevant documentation.
We are BMclinical
BMclinical offers a refreshing apporach to clinical trial supply.
By combining our experience and good partnerships, we have the ability to offer unparalleled commercial drug procurement, inventory management and global distribution services for clinical trials. Our ultimate goal is to simplify our customers' supply chains while providing the highest level of service and patient safety.
More information: www.bmclinical.com
Part of the BModesto Group
A collection of contrarian adventurers, with a keen eye, working together towards a higher goal: making a positive contribution to the care and well-being of our loved ones. Every day, we therefore work hard to ensure optimal availability, accessibility and affordability of healthcare resources in the Netherlands and abroad. How do we do this? By supporting clinical trials with BMclinical, supplying (parallel-imported) medicines to hospitals and pharmacies with BModesto, the same for the UK with Doncaster Pharma and for Germany with SynCo pharma, supplying (parallel-imported) medical devices with BMmedical. As an employee of the BModesto Group, you will contribute to this!
What you will be doing
Lead and manage customer projects from initial enquiry to product delivery;
Prepare quotations, purchase orders and invoices in accordance with customer requirements;
Defining and evaluating customer requirements and ensuring that the quotation towards the customer is the most optimal for the clinical trial in question;
Following internal Standard Operating Procedures and Project Management Processes to effectively manage each project;
Working closely with BModesto's procurement team to oversee sourcing activities related to BMclinical projects;
Proactively communicate project expectations to internal and external stakeholders in a timely and clear manner;
Liaise and negotiate with suppliers to obtain the best strategy and solutions for the client's study;
Proactively manage changes in project scope, identify potential delivery risks and prepare contingency plans for the client;
Plan and track project timelines and deliverables using internal systems;
Build, develop and grow business relationships relevant to the success of the project;
Become proficient in the use of BMclinical's internal inventory management system;
Represent BMclinical at international conferences and events when required;
Collaborate with Senior Management on initiatives to drive BMclinical's growth.
Requirements
Completed HBO and/or WO education;
Minimum 1 year industry experience, preferably Clinical Trials;
English writing and speaking at a professional level;
Writing and speaking Dutch is a plus;
Willing to undertake international travel.
This is you!
Experience of working in a commercial environment;
Experience of proactive project management;
Ability to work both independently and as part of a team;
Strong organisational skills;
Self-motivated professional;
Excellent attention to detail;
Commercially focused while maintaining the highest level of quality and service;
Solution-oriented professional with a desire to support continuous business improvement;
Adaptable and flexible in times of change.
For you, from the BModesto Group
An exclusive onboarding box with unique items;
Cool company parties/outings (check them out on our LinkedIn or Facebook page);
A competitive salary with extensive fringe benefits;
Company laptop and Iphone;
Excellent pension scheme;
Opportunity to follow training and courses in the context of personal development and/or job-related;
Many career opportunities within the BModesto Group and the various entities;
Lots of fun every day in an enthusiastic team with adventurous and razor-sharp colleagues.
Do you recognise yourself in this profile? Send your CV and cover letter to pz@bmodesto.com and who knows, you might come and meet us!
Do you have any questions regarding the vacancy? Do not hesitate to contact our HR department by calling +31 320 216 387 or emailing pz@bmodesto.com.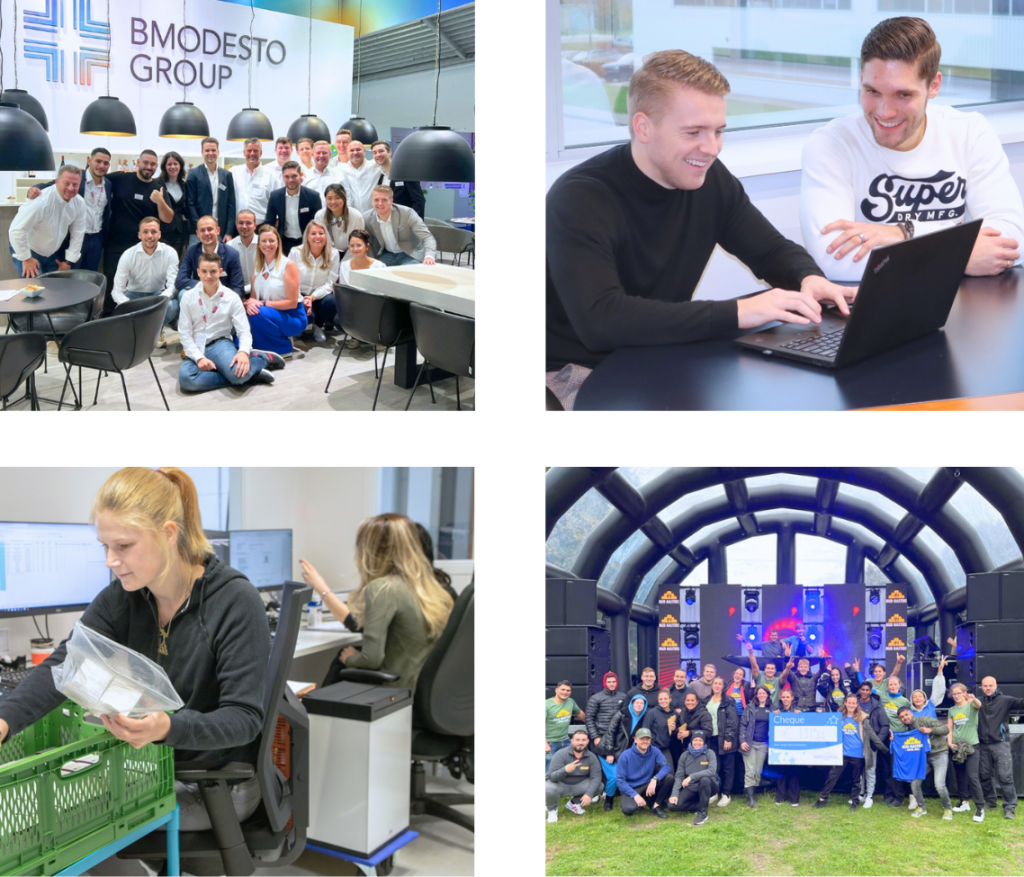 Project Manager
BMclinical
40 hours
Lelystad (Netherlands)
Apply now!