Published on 22 June 2022
At the end of September, we will run the Mud Masters Obstacle Run 2022 with more than 30 colleagues. The Run has an adventurous and challenging course, right through the mud. Participants can choose whether they run six kilometers or the full twelve kilometers.
As an organization active in the healthcare market, we naturally do not do this without raising a nice amount for a good cause. Colleagues of the BModesto Group could choose on our Intranet which charity we will support during the Run this year. We are happy to announce that this year we will be running for the Make-A-Wish Netherlands foundation. This foundation is committed to fulfilling the wishes of children between the ages of 3 and 18 with a serious and sometimes life-threatening illness.
The BModesto Group has already transferred a nice amount. Do you also want to contribute to the mission of our adventurous colleagues? Which can! Support us with a small (or large) donation and help Make-A-Wish Netherlands to fulfill the wishes of seriously ill children. You can donate via the button below: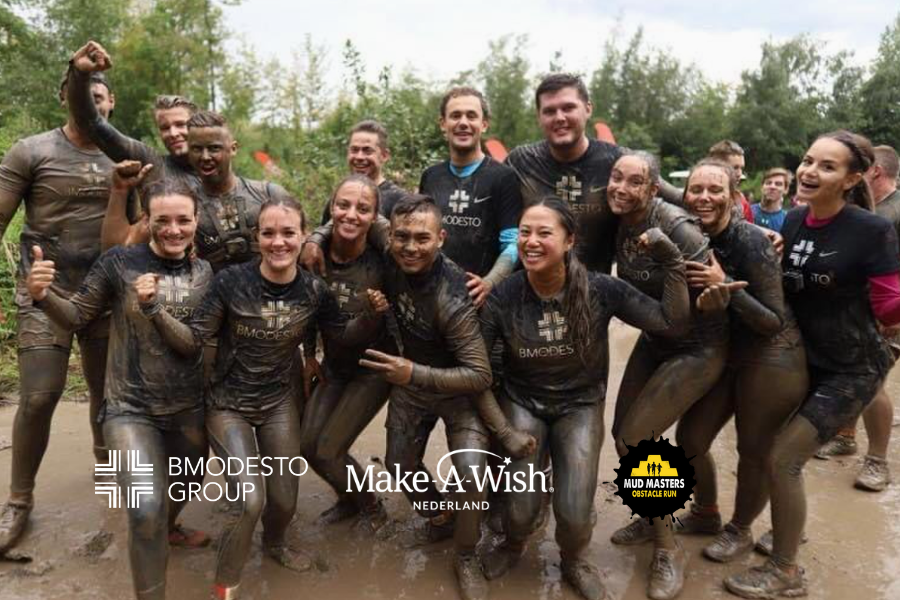 Make-a-Wish Netherlands
Every day, an average of 4 families in the Netherlands hear that their child has a serious, sometimes even life-threatening illness. What follows are months, years completely dominated by hospitals, doctor visits and not knowing what the future holds. Make-A-Wish Nederland wants to fulfill their dearest wish for all these children. Become a forest ranger, be a princess in a real castle or even walk on the moon. An experience that makes them stronger. And gives confidence and strength for the future. The positive energy that coming to the fulfillment of the wish gives children and their environment is exactly what is needed to cope with the disease. Giving to Make-A-Wish is giving with impact!